Clyde Viechweg
Master Storyteller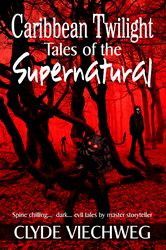 Caribbean Twilight: Tales of the Supernatural
By
Clyde Viechweg
Watch a preview here: https://www.youtube.com/watch?v=cZgeal-ueUA&feature=plcp
Smashwords: http://www.smashwords.com/books/view/263365
Barnes & Noble: Coming Soon!
Amazon US: Coming Soon!
Amazon UK:Coming Soon!
Blurb from Caribbean Twilight: Tales of the Supernatural:
Do you sometimes see shadows over your shoulders? Do you think your eyes are playing tricks on you?
Well think again!!! There are out there.... Dark forces.... Evil... Waiting for the sun to set.

From the Caribbean master storyteller, Clyde Viechweg comes a gripping selection of short stories, guaranteed to keep you on the edge of your chair and chills running through your spine.

Follow a young man's encounter with a La Diablesse, an evil spirit in the form of a woman who lures men to their death.

If that's not enough, you will hear about a Ligaroo. A man who makes a deal with Basil, an evil spirit that lives in the silk cotton tree, that loves human blood. Basil possesses him on a full moon night and flies through the village, sucking the blood of sleeping women and children.

Why not make a deal with the Sea Devil; he will be sure you always catch a boatload of fish in exchange for your soul.

Join Father Baker in an Exorcism as he tries to rid a young girl of a powerful demon.

Take a ride to Sandy Island and break the heart of a young woman, whose grandma happens to be an Obeah woman. She casts spells that keep men bound to home.

Maybe you should get a pet.... A Baku, a little goblin
Like a critter that carries out your wishes in exchange for milk and cake. But try getting rid of him.

Mirror mirror on the wall... Yes, there exist black mirrors that sorcerers use to see the past, present and future anywhere at any time in the world.... Who is looking at you?

Julien Fedon led a revolt against the British and then vanished without a trace.... Or did he? In a dream, he recounts to the author his childhood, religion, the revolt, and the great mystery: where he went and who he became.
You will never look at the Caribbean the same way again.

What will be under your bed tonight? Haha ha ha ha!
Excerpt from Caribbean Twilight: Tales of the Supernatural:
Tales of a Ligaroo
Somewhere out there in the vast turquoise blue Caribbean Sea, to its west, and the turbulent Atlantic Ocean, to its east, lays a gem of an island. For those who are nautically savvy, the coordinates are 12 degrees 03 ' N 61 degrees 45 'W. And, if like Christopher Columbus, you hear her siren song and you feel yourself being drawn to her shores, resist not; for at the end of that tug is the tropical island paradise of Grenada.
To the northwest of the capital St. Georges, lays a quaint and beautiful village called Mt. Moritz. It is here my story begins, among the backdrop of fertile, cultivated valleys of mangos, oranges, golden apples, and every sort of godly fruit. Today, if its original Scottish settlers were to come back, they would notice a distinctive change. Long gone is the ravine flowing with water, teeming with fish and crayfish. The tiny homes are now replaced by stately houses and shops; streetlights are everywhere. The Internet and cell phones would certainly astonish them. However, through all this change, they would soon feel at home, for the fertile soil and the character of the inhabitants remain untouched.
In the time of my childhood, power outage was quite commonplace. Now for those of you who grew up on the island, this became part of life. You noticed it as much as you would pay attention to a sunset.
What you did notice was the black and blue bruises to the ladies' thighs and their complaints of a Ligaroo's indiscretions. Those tales brought fear to the little ones at night. I would find myself peeking out the window, looking for that infamous ball of fire.
Now, as it always happens, a rumor soon begins circulating of who the culprit is. In this case, it was Papa Geedo. When I heard this rumor, it was easy to believe, for Papa Geedo was a strange man who kept strange times and no company. He resided in a little wooden house in the back of the Bocus. When he was seen in the village, he always wore a black felt hat, with black pants and shirt. His eyes always seemed to be bloodshot red.
My best friend at the time, I will call "Sam" to protect the identity of the individual. Sam and I, being adventurous youth, decided to get to the bottom of this rumor. So we started asking people about how a Ligaroo operated. Our most reliable source turned out to be my grandma. She said, "Ligaroos came from Africa with the slaves; they were Obeah men who drank blood to satisfy their deity." She continued, "They come out when the moon is full for three days, in search of a healthy victim."
"What can be done to stop one?" I asked.
"They can be stopped by following them and salting their skin, for they must shed their skin to take the form of a Ligaroo."
So it was then and there that Sam and I hatched our plan to rid the Mt. Moritz of a Ligaroo. Two days before the full moon, Sam went to the church and got a bottle of holy water and I stole a pound of salt from my house. We were reckless youth who thought Ligaroos were old wives' tales. I could hardly contain myself from excitement.
The day of the full moon was upon us. At 10 p.m., Sam and I took up our positions outside of Papa Geedo's house and waited. We tried our best to stop giggling as we speculated on the outcome of this adventure. Looking back on this moment, we never expected anything to come out of it, for we did not believe in such crap.
Greetings to all under the heavens. My name is Clyde Viechweg and I am the author of Caribbean Twilight; Tales of the Supernatural.
I love folklore; their preservation and narrating them.
When I am not writing, I am creating fresh and tasty raw juices that are amazing. Yes, my aim is to bring all under heaven together, through one story and one juice at a time.
Like me on Facebook athttp://m.facebook.com/?_rdr#!/groups/293214617465320?ref=bookmark&__user=1374696917
Join me on GoodReads athttp://www.goodreads.com/user/show/15305001-clyde